MFPE (Manufacture France Produits d'Entretien) manufactures all types of products, mainly for leather and wood care, as a private label manufacturer for distributors and as a subcontractor for brands
Leather care products including polishes, creams, balms, milks, dyes, greases, waterproofing, and more
Wood care products including waxes/polishes, soaps, oils, restorers, varnishes, and more.
MFPE also produces home, riding, automotive, and other care products, as well as special-use products.
MFPE, based in the heart of the Auvergne Rhône Alpes region for over a century, has a high-performance industrial unit dedicated to on-demand co-design, manufacturing and packaging of most aqueous or solvent-based wax products.
The company was founded in the 19th century in Saint-Bonnet-le-Château, near Lyon and Saint-Etienne, as a small taper and candle workshop.
T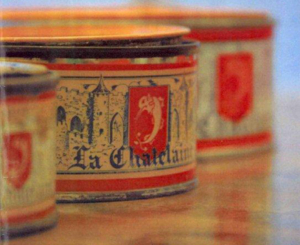 he Chabanol family purchased the company in 1934 and developed its expertise and business.
After WWII, the company created a polish and other home and wood furniture care products under the brand La Chatelaine, which became its name.
The company continued its regional growth as La Chatelaine, and in 1987 launched its own range of high-end products which continued its tradition of using beeswax, with a focus on leather and hide care for a wide range of applications including hunting, sports, clothing, shoes, and riding.
In 1997, the company built a new and more functional 1,400 m2 plant in line with current standards, still near St-Bonnet-le-Château.
In 2004, when Jean-Philippe Chabanol took over, the company expanded again to achieve an industrial scale by offering contract manufacturing of wax-based products to other industrial players, and for over 30 years the company has formulated, manufactured and packaged products for most of the major brands of polishes, waxes, balms, and similar products.
In 2017, the company switched to operating exclusively as a contract manufacturer, became MFPE (Manufacture France Produits d'Entretien), and built a new industrial building on its historic site to further expand its production and storage capacities and meet all its customers' needs for on-demand production and outstanding quality.
The spirit of the company's founders lives on today in MFPE's core values: quality, innovation, performance, "made in France," and respect for tradition, customers, the environment, and employees.